Looking for Leica posters? Here's a selection of 10 that will warm up your inner Leica soul. All of the available posters below are directly inspired by the history of Leica (like recreation of posters, manuals and more) and make for the perfect gift.
All of the Leica posters below are UNOFFICIAL and are no way affiliated with Leica. These are fandom posters and ALL of them have been recreated by hand, just like the Leica Ms are in normal life.
You can get your Leica poster shipped anywhere in the USA & worldwide. All of the posters on this page are for illustrative purposes only. You can find more unoffical fan products here.
10 Stunning Leica posters
With that being said here's a selection of really stunning posters you can get and decorate any bedroom, living room, collection room & more. A lot of the posters are Leica cutaways, meaning they show the insides of the cameras, another term for those is Leica Schnittmodell (Schnittmodell is cutaway in German).
Schnittmodell Leicas have been used mostly as marketing materials in order to show the craftsmanship of the camera. A customer would walk in and see the model and be impressed at the machinery. While these are rare, they make for particularly stunning and intrinsic posters that will liven any room.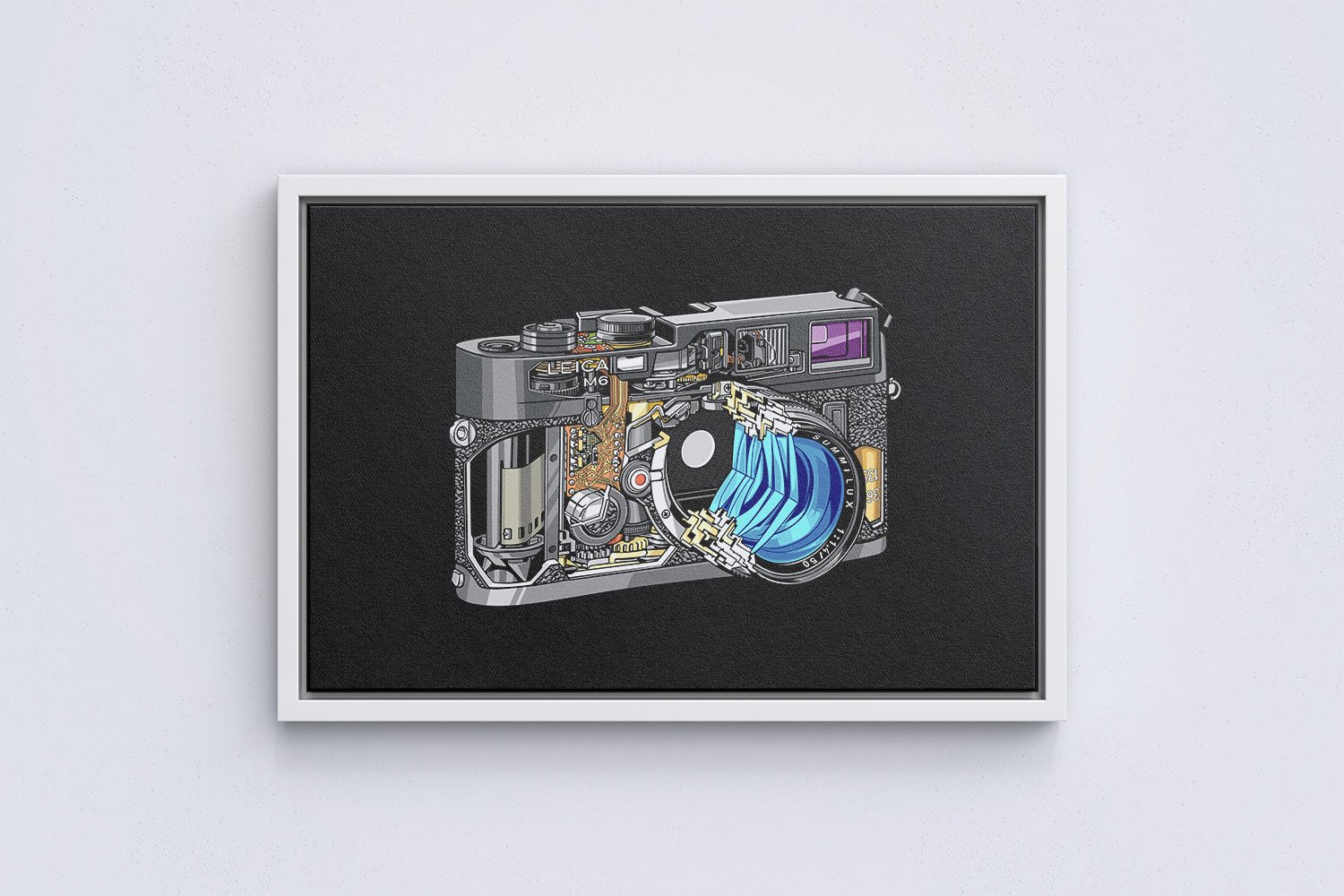 The Leica M6 is probably the most beloved Leica M film camera ever. This poster showcases a Leica M6 cutaway originally found in a brochure. Highly stylized in black and white, this is quite a stunner and highly detailed.
You can even see the framelines in the top left area, the electronic lines for the lightmeter, and even the button batteries. This is one of the most detailed and intrinsic posters you will find and will please any Leica fan.
Comes in black or white background, or colored version.
Leica had a promotional poster for the M2 in 1966 and this recreates the best part of that poster, a Leica M2 cutaway. Highly detailed and expertly recreated this is sure to please any vintage Leica fan. Comes in multiple colors to match the iconic green, blue and orange design.
Also available is a white background version and a "vintage" background version with a tint reminiscent of old paper.
This stunning Leica poster showcases an exploded view of the Leica M2 rangefinder camera. It is insane how complicated mechanical device is, even tough it is one of the first Leicas! Faithfully recreates a rare Leica M2 repair manual illustration.
This is a hand-drawn sketch poster that renders a cutaway Leica M3, the first and original M camera. Highly detailed sketch with pen marks, perfect for the home office, or any room that needs a little camera touch.
Before the M cameras were the Leica LTM rangefinders. This beautiful poster pays homage to the Leica III with a faithful, clean lines recreation.
A closeup sketch in architectural style of a Leica M6. The portrait orientation makes it a perfect fit for tighter spaces.
The pinnacle of Leica film cameras is probably the MP, aka Mechanical perfection, here it is rendered in a beautiful architectural, sketch style in all of its glory. Highly detailed with the original made by hand.
The M9, one of the most beloved digital Leicas ever has ben hand drawn and rendered in the form of a Leica poster.
If you have the latest M digital, this Leica poster might be the one for you. Originally hand drawn and very detailed, sketched by an architectural designer, perfect for any room.
The original Leica digital rangefinder has been drawn by an architectural designer and features the most iconic part of the camera, the top plate with the little window on the left. Perfect for M8 fans or Leica fans.
Mix and match
Remember that you can always mix and match your Leica posters and make diptychs and even triptychs for an even better effect. See for yourself below:
Conclusion
I hope you liked this selection of Leica posters. All of them have been faithfully crafted and recreated by hand, just like most Leicas are. If you want the selection of all posters, click here.