Got a Leica film camera without a meter, or a dead one? No problem, here are 5 of the best light meters for Leicas. These have been selected because of size, usefulness and features, let's get right in.
Incident vs reflected metering
Lightmeters are a must-have Leica accessory, and they come in mostly two flavors: Incident vs reflected meters. Without getting in too deep, most cameras use reflected measuring because they are pointing at a subject and reading the light that bounces off that subject.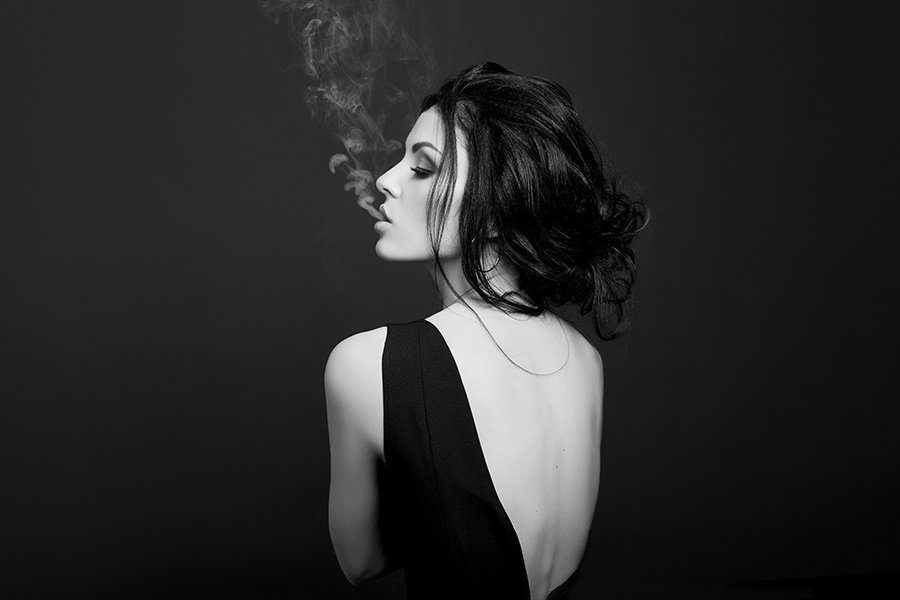 Incident metering, usually shown with a little ball around the meter can pick up the light that hits directly at the subject, but also presupposes that you can go in front of your subject and take a reading of the light hitting them.
Since most Leica photographers are reportage, life photographers, incident isn't really a big deal for them, but will still make a note of this because it is always a nice to have. Let's look at the overview of the best light meters for Leica below.
Best light meters for Leica
Now that we've seen the overview of the best light meters for Leica let's look at what makes each great.
Minimalist and one of the best light meters for Leicas
Reasons to buy
Cons
✔️ Mimics Leica meters
✔️ Simple to use and understand
✔️ Small stature
✔️ Well built
🛑 Reflective only
🛑 No battery check
This is one of the best modern light meters for Leica you can get, if not THE best. Unlike a lot of light meters on this list there are no real learning curves and it mimics the way newer Leicas handle exposure. Simply put the light meter on top of your camera and select your appropriate ISO, aperture and shutter speed. The last two have their dedicated dial while you need to press the button for the ISO to turn within the little window. This makes it hard to knock out the ISO setting inadvertently. Both dials are really sturdy and have definite clicks when you turn them.
If your settings are spot on, the dot will light on, or the arrows will indicate if you are over or underexposed. Change the settings on the dials and once you have the right exposure you can transfer those to your camera. This light meter is sleek and of small profile and can be slipped in a small pocket. Check for best price.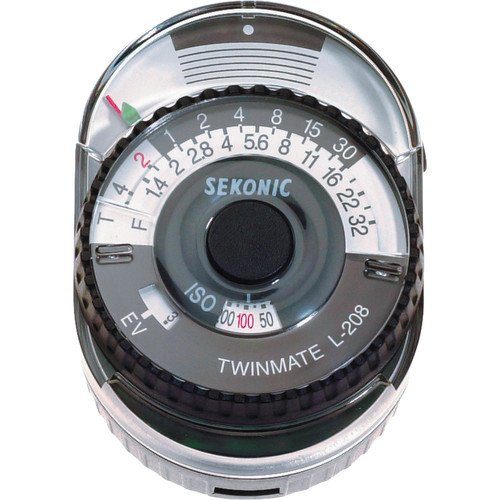 Reasons to buy
Cons
✔️ Analogue
✔️ Incident and reflected readings
✔️ Satisfying main dial
✔️ Battery check
🛑 Not that sleek looking
Next up our list of the best light meters for Leicas, the Twin mate. Sekonic is THE brand for light meters and while they mostly cater to studio and professional light meters the Twinmate is one great light meter for Leicas. It looks like an a analogue gas gauge when you slide it on the hotshoe. This is very versatile as you can have both incident AND reflected metering by sliding a plastic window in the front.
Press the button on the top right and it will take a reading that lasts for 15 seconds, giving you enough time to change your settings like ISO, aperture and shutter speed all changed with the main dial with the two grooves on the sides.
There is a battery check located at the bottom of this light meter and if it is good the needle will be within the blue stripe range that you see located on the left. There is a removable shoe mount that you can adjust the meter's placement on your camera and finally there is also place for a strap to carry it around your neck vs on the shoe mount. Check price.
The swiss army knife of light meters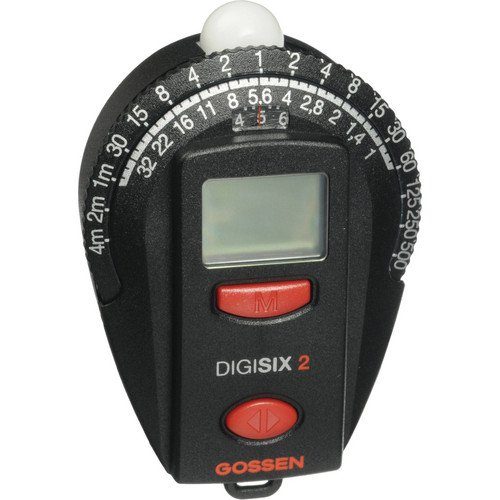 Reasons to buy
Cons
✔️ Main LCD for quick reading
✔️ Analogue reading of EV
✔️ Portable
✔️ Great dials for control
🛑 Needs hotshoe adapter
Third on our list of for the best light meters for Leica, the Digisix. This is the only light meter for Leica on this list that has an LCD and that makes it quite the swiss army knife for photographers. It is incident and reflected and capable of way more than any other light meters on this list. The LCD can turn into a watch, a timer and even has an alarm function and temperature measurement.
Because it has a screen it can tell you exactly how much you are off in your exposure estimation. It is a diminutive meter but it doesn't come with a hotshoe mount, this will have to be gotten seperately. The bottom of the light meter only has a tripod screw. Check price.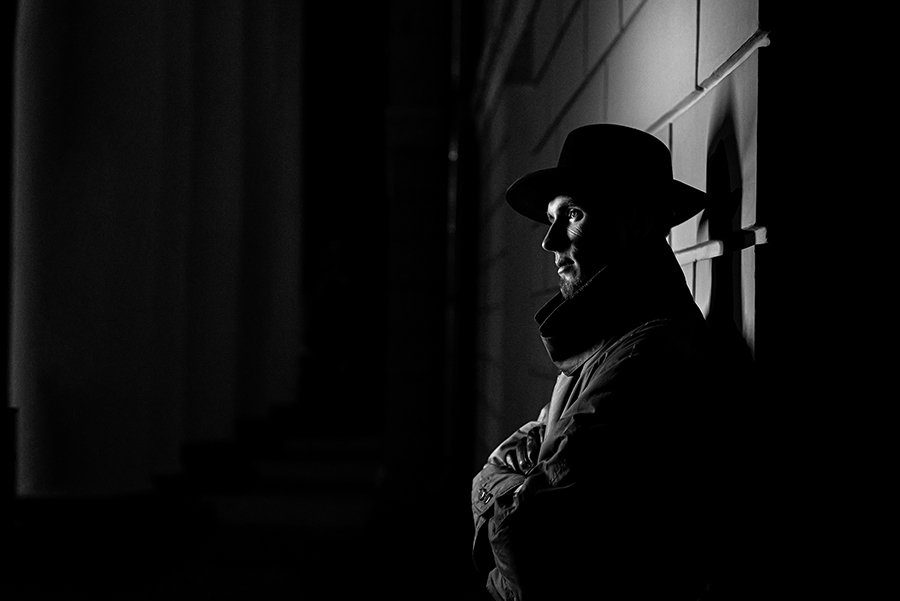 The light meter for the digital age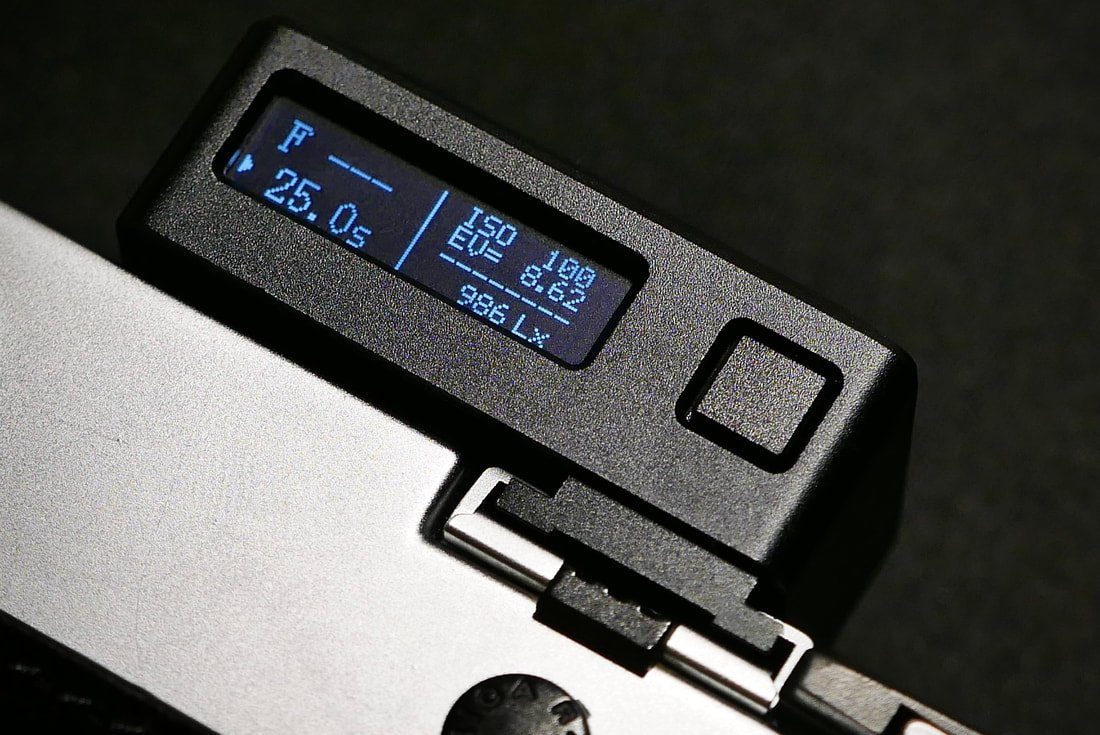 Reasons to buy
Cons
✔️ Easiest to use meter
✔️ Great build quality
✔️ OLED screen for any conditions
✔️ Intuitive
✔️ USB C rechargeable
🛑 Reflected metering only
Next as an option for the best light meters for Leica. If you want a light meter for your Leica that is TRULY modern, the KEKS photometer is for you. This meter is made out of metal alloy and looks sleek and the screen is looking at you when you hold your camera. The screen is OLED and is viewable even in sunlight, and your settings are easily changed with the four buttons on top. Two control the aperture up and down, the other the shutter speed. To change the ISO hold the button at the back of the meter and then you can use the arrows to change it.
This light meter feels solid and expertly crafter and it looks good with the contrast of such a techy looking thing on top of old analogue cameras. It's good for a solid 20 hours of use and because it is modern it can be charged with a USB C cable, something that you probably already have if you have an android phone.
It's more advanced than any other meter on this list, simply put in your Aperture and it will tell you the shutter speed you need to be at and vice versa. This is the simplest light meter for Leicas you can get. Check best price.
For stunning black and white portraits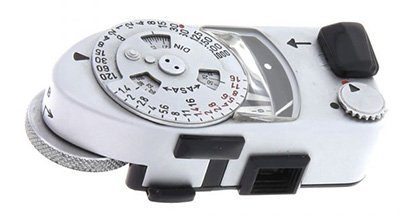 Reasons to buy
Cons
✔️ Same design as Leica
✔️ Takes control of the SS dial
✔️ Only deal with aperture
🛑 Only for select M cameras
🛑 Reflected only
Our final choice for the best light meters for Leica, the one made by themselves. This is the granddaddy of them all and one of the biggest reasons to get it is that this takes over your shutter speed dial, so it saves you from having to mirror the readings from your meter to the camera itself.
This is compatible with the M3, M2, M1, M4, M4-2, M4-P. So if you are looking for something for a post M4 Leica this won't do. What's great about this is once you set it up, the only thing you have to worry about is the aperture as whenever you change the shutter speed the reading changes. It is a bit big but looks right at home on the Leica, something that cannot be said about the other best light meters for Leica on this list. Check price.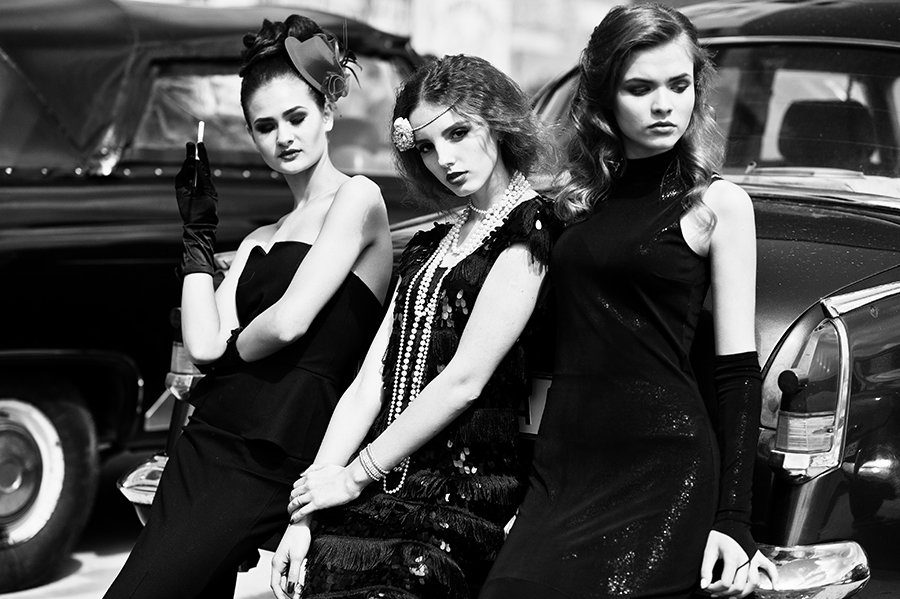 Conclusion
I hope you have enjoyed this article about the best light meters for Leicas. The best, minimalist and no frills one if the Voigtlander VC II that mimics the meter reading of Leicas and is extremely simple with the dials. If you need both incident and reflective readings then the Sekonic Twin mate. Finally if you are looking for the ultimate light meter that blends the latest technology, it's the KEKS EM01, a sleek light meter. Happy shooting!